at long last... this installment contains, essentially, the remainder of my output from april and may, before i went away for a month and abandoned you all (and also a couple few pieces i wrote since returning.) it's all either disco, or pop, or (more often) some combination of the two, and a good portion of it is Scandinavian...! interspersed throughout are various nuggets of genre theory, historiography, and general pontificating that you'd otherwise be getting from me here unfiltered. before moving on to some of my very fave recent releases (though not cloetta paris, who i'm just reviewing now, and who certainly belongs here), gonna kick it off with three different sortsa compilations from three of the best best scandi artists there are:


Lindstrøm: It's A Feedelity Affair review

"It's a Feedelity Affair, the debut solo album from Hans-Peter Lindstrøm, is the soundtrack to an unrealized mystical science fiction/action epic directed by Wong Kar-Wai. Handily, it also functions as a greatest-hits compilation for the celebrated Norwegian dance producer, collecting most of the sides from his single releases on his own Feedelity Recordings imprint between 2003 and 2006. Arranged roughly chronologically in the order of their release, these productions run the gamut from the brisk, cheerful robotic disco of aptly named early single "Fast and Delirious" to the slinky, vaguely sinister disco strut of "Limitations" to the meandering, tripped-out cosmic disco of "Further Into the Future" (a Prins Thomas co-production) to the balmy, downtempo equatorial disco of "Arp She Said." Yep, it's all disco in some way or another, including more or less any way you can imagine as long as it's instrumental and least vaguely electronic (actually not everything here is instrumental: the supremely dubbed-out "Music [In My Mind]," Lindstrøm's first Feedelity single, boasts some druggy, disorienting spoken/sung vocals courtesy of Christabelle, aka Isabelle Sandoo.) Otherwise, these tracks are united by a sense of adventurous musicality and a pervasive playfulness that is rarely so pronounced in electronic dance music -- dig the myriad extended noodley keyboard solos, the dizzying sequence of chord changes toward the end of "Fast and Delirious," or the endless restless mutations that compose the stately, epic-length "There's a Drink in My Bedroom and I Need a Hot Lady." The compilation's undeniable peak and centerpiece is also Lindstrøm's signature tune, the epochal "I Feel Space," which nods to Donna Summer and Giorgio Moroder's Italo disco blueprint "I Feel Love" in its title and agitated, arpeggiated bassline, but looks toward the cosmos with its mesmerizing, gracefully yearning portamento synthesizer melody."


Robyn: Robyn's Best review

A shamelessly misleading and essentially worthless release that seems misguided even as a straight-up cash-grab attempt (because where was Robyn's audience in 2004?), this is not so much a "compilation" as a repackaging of Robyn's 1997 debut album -- minus three tracks. Those three -- curiously, the only three that the then-teenaged Swedish singer wrote herself (though she has at least a co-credit on every track) -- are not even the weakest cuts on Robyn Is Here, although like the bulk of the album they are relatively slight, generic pop-R&B. Indeed, the only conceivable advantage of this release is that it front-loads all three of the album's strongest tracks: the three singles. But what makes Robyn's Best actively insulting instead of just obnoxiously harmless is that at the time of its release -- although she had yet to embark on the full-scale artistic and commercial renaissance that would begin the following year with the Swedish release of Robyn -- she already had two more excellent, Europe-only full-lengths under her belt that this compilation pointedly ignores.


Bertine Zetlitz: Sweet Injections, Rollerskating, My Italian Greyhound, and In My Mind: 1997-2007 - Best of reviews

"One of Norway's most popular artists - predictably, unjustly, obscure in the rest of the world - Bertine Zetlitz gets a well-deserved career retrospective in this consistently excellent collection that compiles all of her singles to date. In My Mind, which arrived during a performing hiatus following the birth of her first child, is somewhat inexplicably titled after a good but unexceptional ballad from her debut, which is not included here - a more appropriate title might have been "Twisted Little Star," which apart from being possibly the most gorgeous song she's ever written is also an apt description of her perverse, cryptic lyrical tendencies.... Her 1998 debut Morbid Latenight Show (the only of her five albums to be released in the U.S., under the far less distinctive name Bertine) is well represented by four tracks of jazzy lounge-pop, which have aged reasonably well, while the more complex, decidedly darker albums Beautiful So Far and Sweet Injections yield three cuts apiece - several trip-hop-inflected gems and twisted dance-pop nuggets, and the lovely ballad "Fate" (presented in the fuller, more radio-friendly Disclab version.) If there's any quibble to had with the selection, it's that the two fantastic albums Zetlitz made with Fred Ball (a.k.a. Pleasure), 2004's Rollerskating and 2006's My Italian Greyhound, are shortchanged, with only two tracks apiece.... Zetlitz was on a tremendous roll in the years leading up to this compilation, and that's reflected in two new songs (perhaps modestly slotted at the end of the track list) which, in contradistinction to typical wisdom about these things, are as strong as anything else on the disc: the unsettling, melodically ethereal "Ashamed," which sets the fears and anxieties of motherhood to a slinky electro groove, and the artlessly bittersweet, resigned ballad "Bubble Bursts." Unlike fellow Scandinavians pop trailblazers Robyn and Annie, who have at least made some inroads towards international awareness, Bertine remains a virtual unknown outside of Europe, but her work is every bit as inventive, idiosyncratic, personable, accomplished and worth seeking out.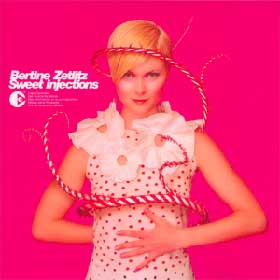 "Continuing a gradual progression from the cosmopolitan singer-songwriter pop of her debut (and only U.S. release to date) Morbid Latenight Show and the moody, trip-hop inflected Beautiful So Far towards the more fully electronic dance pop of her later work, Bertine Zetlitz's third album contains her brightest and catchiest pop songs to date, as well as with plenty of typically dark, cryptic material. Where Zetlitz is concerned, there's no great divide between darkness and pop - just take a look at those adorably sinister barbed candy-cane vines threatening to encircle her on the cover and you'll get the idea. Her characteristic juxtaposition of girlish sweetness with subtly psychological menace pervades much of the album, as if to confirm her softly cooed assertion that she's "the sickest girl you'll ever find." Even the album's glossiest moment, the spun-sugar synth-disco of "Girl Like You" (produced by Richard X), involves the disquieting mind games of a needy, manipulative, obsessive lover. Other standouts include the start-stop funk of opener "For Fun," which offers even more unsettling promises ("I will make your soft hands tremble/I will make your ego burst"), and the stunningly gorgeous "Twisted Little Star," which, title notwithstanding, is relatively genuine in its sweetness."


"Bertine Zetlitz's fantastic fifth album continues the inspired pairing with Pleasure's Fred Ball that produced the utterly masterful Rollerskating two years earlier, making it her first album not to involve a wholesale change-up in collaborators. Although her earlier albums, made with a series of distinguished pop and electronic producers, were frequently brilliant, and certainly established the strength and consistency of her musical identity, Zetlitz seems to have found an exceptionally sympathetic confederate in Ball - in any case, their partnership to date has produced some of the very finest and most uniquely realized pop music of its day, bar none. Essentially following a similar template to Rollerskating - casually sophisticated dance-pop that blends lush organic instrumentation with understated electronics, recalling '70s funk, AM pop-rock, and disco while still sounding effortlessly modern - Greyhound is notably warmer and breezier, scaling back some of the icy anxiety that had made her earlier work so simultaneously alluring and unsettling, and allowing more genuine sweetness to shine through than ever before. "Never Let You Go," a rare foray into major key tonality, wields its titular phrase, on balance, as more of a promise than a threat; "Get What You Deserve" is easy-going, Fleetwood Mac-styled country-pop with endearingly shaken-up lyrics about being caught off-guard by love, and even "Obsession," a twitchy electro groover whose title would seem to imply lyrics riddled with Zetlitz's trademark psychosexual melodrama, offers unexpectedly candid declarations of affection. It's not that Zetlitz has gone soft - there's still darkness and heartbreak here, though it's less likely to be shrouded in cryptic imagery - but she has relaxed and opened up somewhat, making this her most engagingly human work to date, even if it's far from sunny. Musically too, Greyhound is her most vibrant and forceful album, with only one ballad to speak of (the almost schmaltzy "This Time") and several of her finest dance tunes - the stellar singles "Midnight" (a sleek, sophisticated disco burner) and "500" (a quirky, minimal bump-and-grind featuring glorious harmonies and the memorable line "I have been sweet on you forever/that's why I have been stealing all your stuff"), but also the funky, slinky "Draggin' Me Down," among others. Stylish, sensitive, complex and compelling, My Italian Greyhound is, all told, a second straight masterstroke from Norway's greatest underappreciated pop auteur."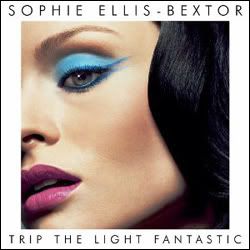 Sophie Ellis-Bextor: Shoot From the Hip and Trip The Light Fantastic reviews

"...of course, "respectable" doesn't necessarily count for much in pop terms, although Ellis-Bextor has mastered a knack for exuding sophistication without being off-putting and stuffy -- she's so posh (viz. her unmistakable accent) that the slickness of the production complements her personality rather than diluting it. Still, the songs have to be there, and the songs on Shoot From The Hip rarely rise above the merely pleasant..."

"A welcome return from one of the most sophisticated and distinctive voices in British dance-pop, Trip The Light Fantastic is easily Sophie Ellis-Bextor's most dynamic album to date. Markedly more consistent than its enjoyable-but-spotty predecessors, but also -- more importantly -- far more gutsy, varied and vital, its many strong points are the most exciting of her career. It had been four years since her previous album -- a considerable span in pop terms -- but Ellis-Bextor's music has always hearkened to smartly classicist, new wave-informed synth-disco, even in the days when the Pet Shop Boys were practically the sole remaining practitioners of the style, so it didn't require much alteration for her to sound right in step with eighties-resuscitation that was in full swing by 2007. Even so, she sounds dramatically reinvigorated here, with a notable infusion of rock guitars and often a forceful, even menacing, electro edge to the productions, both evident right out the gate in the strident, barnstorming first single "Catch You." The highlights follow fast and furious: the immaculate disco glide of "Me And My Imagination" (whose canny lyrics advise an overeager suitor to play harder to get), the robotic, strobing "New York City Lights," the Xenomania-esque, Emma Goldman-quoting stomp of "If I Can't Dance" (the actual Xenomania contribution, "If You Go," is nearly as good), and the lovely pop ballad "Today The Sun's On Us," Ellis-Bextor's entrant in the late-2000s "Time After Time"-homage sweepstakes. Amazingly, despite that practically flawless opening sequence, the latter half of the album is nearly as strong, boasting the bouncy, fun-loving pop of "Love Is Here" and the twitchy electro of "China Heart," while the brashly optimistic disco-schmaltz apotheosis "Only One" stands as the album's most triumphantly over-the-top, life-affirming moment. In a banner year for British, female-fronted electronic chart pop, which saw excellent albums by Sugababes, Girls Aloud, Roisin Murphy, Siobhan Donaghy, Tracey Thorn and Kylie Minogue among others, Ellis-Bextor more than held her own with a classy, romantic, and, above all, tremendously enjoyable record which stands as a shining example of the state of the art."


Amy Diamond: bio, This Is Me Now, Still Me, Still Now, and Music in Motion review

"Amy Diamond's third album in just over three years isn't dramatically different from her first two, but as its title suggests - in direct distinction to its place-holding predecessor - it does show definite signs of forward momentum. Still barely into her teens (fifteen to be precise), she's already beginning to drop the kiddie trappings that have marked her work to date - nobody's going to mistake her for an "adult" artist just yet, but as she starts to make that always-awkward transition (which she'll probably complete in about another year, the way pop works these days) she's already a force to be reckoned with. Growing pains are already evident in the album's musical lopsidedness, stretched as it is between sleekly modern dance/R&B ("Domino," "Speed of Light," the cheekily Cyndi-Lauper-ish "So 16") and dimpled schmaltz like "We Could Learn a Lot" (which is about aliens), "Sleepy Sunday" (unusually peppy for a song about laziness), and the over-orchestrated playground retort "Takes One To Know One." Both tendencies have always been present in Diamond's music, but they seem especially polarized and disparate here, though her always-potent pipes and general perkiness keep things from feeling too incongruous. The by-now obligatory lite-ska grooves turn up on the impressively slinky "Looks Like We Made It" - which slathers on the reverb and actual horns before changing gears midcourse with a double-time pep-pop chorus - as well as the enjoyably frothy lead single "Is It Love?," a slight slice of blippy electro-pop. Better is second single "Stay My Baby," a chunky, funky collaboration with Max Martin that sounds nostalgic for the sort of teen-pop he pioneered ten years earlier with Britney and the Backstreet Boys; better still is "Thank You," Diamond's entry in the 2008 Melodifestivalen contest (it won her 8th place), which cribs the electro schaffel glide most often associated with Goldfrapp. Added to the album upon its early 2008 re-release, "Thank You" is classic Diamond in the over-the-top giddiness and subtle snarkiness of its lyrical kiss-off ("Thank you for all that you've done for me/Now I know what real love is supposed to be" - too bad she doesn't sing "done to me" like it says on the lyric sheet) - and arguably her finest single to date. And pretty soon it will even be age-appropriate!


Juvelen: bio, 1 review

"From the opening seconds of "Don't Mess" - two crisp snare hits and a sudden blast of syncopated, celebratory synth-funk - it's clear that Juvelen is aiming for pop's big leagues. Crucially - because modern popstardom is nothing if not a self-fulfilling prophecy - Jonas Pettersson has the cocksure, charismatic swagger, and the songs (also important), to make you think he's already there. Look no further than the banal but still perhaps slyly boastful title of the suave Swede's first full-length. 1's stunning kick-off track "Don't Mess" has all the excitement of a vintage Michael Jackson floor-filler (think "Wanna Be Starting Something"), while "Hanna," among others, channels classic Prince in its terse funk-pop, histrionic falsetto and pure-heart/dirty-mind confessional lyrics. Sidestepping the inevitable anxiety of obvious influence, Juvelen's work here could be described simply as "traditionalist" electronic dance-pop, but he has enough personality to make it both impressively fresh and surprisingly heartfelt. His unfiltered sentimentality and infectious positivity shine through on additional party-time contenders like the easy-going disco charmer "Facts of Life" and especially the propulsive "Money Don't Talk," which contains the defining couplet "I never made any money/always preferred to make love." The album's several quieter moments - not quite ballads, they're more like slow jams - are somewhat less musically distinctive, though often touching (notably the lush "A Dream"), the striking exception being the understated, gorgeously lovelorn minimalism of "Watch Your Step," reprised from Juvelen's debut EP. Apart from a few slightly less memorable cuts (and what would a great pop album be without its filler?) the only real potential sticking point to enjoyment here is Pettersson's voice, which shifts ably enough between song, speak-singing, whisper and falsetto, but frequently strays into an oddly strained, throaty timbre that can come off as forced and insincere (a serious problem for such a soulful singer), and which some listeners may well find inescapably grating. For the most part though, it's easy enough to acclimate to this vocal quirk in view of the record's other merits, and well worth it; it's the lone notable flaw in a nearly impeccable pop debut."


Sally Shapiro: Bio, Disco Romance, Remix Romance Vol. 1 and Remix Romance Vol. 2 reviews

"The cover photo for the North American edition of Sally Shapiro's Disco Romance depicts the Swedish singer in winter, her cheeks rosy, her blond hair and eyebrows dusted with snowflakes, smiling to herself in spite of the chill. It's a fitting image for this undeniably wintry album, conjuring not just the glacial sweep and frosty twinkle of producer Johan Agebjörn's synthesizer fantasias, but also the faint but glowing presence in the heart of the blizzard: Shapiro's soft, fragile voice, which is so thin and devoid of inflection that it ought to be impenetrably icy, but is somehow instead as warm and enticing as a cozy fire in the dead of February. A closer examination of that cover image reveals that what look like snowflakes are in fact tiny stars, computer-generated pentagrams (though they almost look hand-drawn) that could be read as a subtle reminder that the intimacy and poignant sincerity of these songs came about, in a sense, only through layers of artifice. For one thing, Shapiro herself -- or more precisely, the anonymous singer behind that alias -- remains something of a cipher. Who can say for sure whether her oft-discussed shyness (she has yet to perform live or offer an in-person interview, and reportedly she will only record vocals when alone in the room) is completely genuine or a clever piece of image manipulation. If it's the latter, that might in a roundabout way to lend some authenticity to the project. As the playfully retro, knowingly garish design of the original European cover for the album makes clear, Disco Romance is a conscious effort to recall -- indeed, to reproduce -- the sound and style of 1980s Italo disco, a genre built on cheap synthesizers, recyclable dance grooves, and interchangeable faceless vocalists reciting inane or even nonsensical lyrics. Which isn't to suggest that it wasn't great music. And this album pulls out all the right tricks to faithfully evoke Italo at its best -- vocoded vocals, spacey synth washes, squelchy electronic squiggles, octave-jumping ostinato basslines -- while also incorporating just enough variety in tempo and rhythm to avoid the genre's propensity for monotonous excess. But it also transcends mere genre exercise -- for all its facelessness and artificiality, Disco Romance is unabashedly a product of love, and it contains unexpected beauty and a depth of humanity that should appeal not only to nostalgic Italo fans, although it is undeniably suffused with nostalgia in a broader sense. Crucially, the songwriting, though essentially simple, is vivid and often penetrating in its evocations of love (sought; found; lost; unrequited). The clearest standouts on that count are the couple of numbers borrowed from Swedish indie pop one-man band Nixon (notably "Anorak Christmas," an adorable tale of new love with an indelible synth hook to match), but Agebjörn's originals are nearly as potent, particularly the warmly reassurance of "I'll Be by Your Side" -- the would-be one-off single that started it all -- and the tortured ambivalence of "I Know," whose run-on sentence of a chorus veers from hope to despair with each protracted turn of phrase ("I know you're my love/Even though/Sometimes/I believe/I will wake up from this dream...").


"Following their North American reissue/revamp of Sally Shapiro's debut, Disco Romance, Toronto-based Paper Bag Records worked with the album's creators to put together not one but two sets of remixes, collecting several, though not all, previously existing mixes of the material and amassing a bounty of newly solicited versions. Given the recent emergence of 1980s electronic Italo disco as a newly hip commodity in the late 2000s, and Disco Romance's superlative and uncannily accurate re-creation of that style, it's not surprising that plenty of artists would jump at the chance to get involved and pay their respects, nor that a majority of them would turn in renditions that hew fairly close to the original templates. Most of the bigger names on Remix Romance, Vol. 1, including the Juan Maclean, Junior Boys, Lindstrøm, and the hotly tipped German producer Tensnake, offer remixes that carry their distinct fingerprints while upholding the sense of reverent allegiance to vintage electronic disco -- in other words, mixes that aren't too far removed from their own work...

On the less electronic side of things, Canadians Woodhands, Holy Fuck, and the Cansecos each add some amount of live instrumentation, edging Shapiro's electro closer to danceable indie pop territory; the best of these might be the Cansecos' percussion-heavy reading of "Hold Me So Tight," which is strikingly reminiscent of Annie's "Heartbeat." The only real wild card is Jon Brooks' (of Advisory Circle and King of Woolworths) stately, Air-ish reworking of "Skating in the Moonshine," which eschews percussion and all but the most atmospheric electronics in favor of understated electric piano, acoustic guitar, and mournful, oddly archaic-sounding flutes. It would probably flow more naturally if Shapiro had re-recorded her vocals with this stripped-down approach in mind, but it's still an effective reminder of how much strong songwriting contributed to the original album's success. Needless to say, Remix Romance lacks the coherence and conceptual singularity of Disco Romance, but for a remix album it delivers impressively, both in terms of track-for-track hit rate and overall listenability. Considering its welcome but not gratuitously overabundant variety, it's just possible that some listeners will find themselves preferring this version of Romance.


[Various Artists]: Milky Disco review

Like Ghostly International's groundbreaking Tangent 2002: Disco Nouveau compilation five years earlier, London-based Lo Recordings offers an excellent survey of recent trends in disco-based electronica on the intriguingly titled Milky Disco. Compiler and label head Jon Tye (who appears here as part of Black Mustang) records under the alias Milky Globe, but "milky" is also an apt, if ambiguous, description of the luscious music contained here, which might be more straightforwardly labeled "space disco." The underlying, unifying concept of electronic disco grooves overlaid with dubby, psychedelic, and otherwise "cosmic" elements may not be anything particularly new - the disc opens with a blithe, genteelly floating track by Daniel Wang (who, curiously enough, also kicked off the Disco Nouveau comp) which dates back to 2001 and sounds like it could have appeared two decades earlier - but by the late 2000s it was coalescing in a burgeoning international movement. Certainly, there is a sense that many of these artists are working with an awareness of each other (a number of the included cuts are collaborations or remixes), as well as a shared appreciation for the (suddenly, it seems) venerable tradition of electronic disco, and in particular the recently celebrated Italo-disco of the late '70s and early '80s which, though not an exact template for the tracks contained here, is nonetheless a palpable influence. The compilation does contain at least one direct link to the music of that era in the form of a dense, dubby remix of up-and-comers In Flagranti by mythic French producer Bernard Fevre, a.k.a. Black Devil Disco Club. Otherwise, the track list is deceptively unassuming.

Milky Disco features an impressive array of artists from various sectors of electronica working under unfamiliar, in some cases one-off aliases. Luke Vibert appears as Kerrier District, Metro Area's Morgan Geist gets bongo-happy under the cheeky moniker Jersey Devil Social Club, and Jon Brooks (King of Woolworths, Advisory Circle) offers some spirited orchestral thumping disguised as Georges Vert. There's also a disparate trio of cuts licensed from London's DC Records (including a moody, minimal piece by Quiet Village, a duo including Matt Edwards, a.k.a Radio Slave), and three selections from noted Swedish acts: Johan Agebjörn, best known as the producer for Sally Shapiro -- she sings on "Spacer Woman from Mars" -- contributes the most explicitly space-themed inclusion, though it's also notably faster and poppier than anything else here, while Studio and Hans Peter Lindstrøm (the scene's putative figurehead, if it has one), along with San Francisco's Sorcerer (represented by his debut 12" "Surfing at Midnight"), hold down the disc's blissfully airy and relaxed final section, the former with the epic "Life's a Beach," a defining release of the 2007 Balearic trend; the latter, under the odd pseudonym Six Cups of Rebel, with the short, uncharacteristically near-ambient swooner "Dubbe Ditten." Tracing a loose trajectory from the just-barely-earthbound confines of the dancefloor to expansively cosmic, nearly beatless reverie (from the disco towards the milky end of the spectrum), Milky Disco covers considerable stylistic range within its broadly delimited purview while offering a handful of rare or exclusive cuts and maintaining an impressively high level of quality, with plenty to interest both attuned collectors and curious new listeners.


[Various Artists]: After Dark review

A limited-edition CD-R that functioned as both an introductory label sampler and a roundup of the first several 12" releases on the fledgling Italians Do It Better imprint, After Dark presents a sleekly sinister style of synthetic dance music that recalls the decadent overtones of early-2000s electroclash but finds a more direct stylistic referent in vintage electronic disco from around 25 years prior. The name of the New Jersey-based label (run by Mike Simonetti of Troubleman Unlimited) suggests a link with Italo disco, a genre that was very much coming into vogue when these sides were released in 2007, but despite a preponderance of relentless robotic synthesizers, the music here is a far cry from the giddy sentimentality and synth pop melodicism often associated with that style (and as heard, for instance, in the classicist Italo revivalism of Sally Shapiro, among others). The tracks collected here turn instead on haunted minor-key vamps, torpid tempos, cheap-sounding synths, and stripped-down, almost rudimentary percussion, creating a consistent, rather dour atmosphere that feels anachronistically musty but not quite retro. This sharply defined aesthetic must be credited in large part to producer Johnny Jewel, who has a hand in the music of three of the five artists represented here. He's a member of both Glass Candy and Chromatics (each of which had existed as post-punk-styled rock bands before effecting this transformation into what could be tagged post-disco), and he also produces here for Farah, a Plano, TX-based vocalist/lyricist who doesn't sing so much as intone, in both English and Farsi, with a devastating dispassion. Her "Law of Life," a dead-eyed, post-apocalyptic sermon declaimed over Jewel's spare, unrelenting jittery thud, is the compilation's most bleakly nihilistic moment, though it has some competition from Chromatics' standout "In the City," a dreamier but no less creepy track whose soporifically dripping synths, muted guitar glimmers, and fluid string lines induce a sweet-but-deadly hypnosis beneath singer Ruth Radelet's bleary croons of "shining violence." Glass Candy's kickoff, "Rolling Down the Hills," is a crackly, horn-fueled strut that could pass for straight-up old-school disco, at least if it were sped up a few notches, while the contributions by Professor Genius and Mirage skew closest to classic Italo -- the former offering up a pair of Moroder-esque synthesizer workouts; the latter gilding their midtempo keyboard fantasias with menacingly alien vocoders. Mirage also turn in an excellent, understated, robotified rework of Indeep's classic "Last Night a DJ Saved My Life," which, alongside a generous selection of covers (three of them by Glass Candy, including a beguiling take on Kraftwerk's "Computer Love"), helps to establish a strong sense of reverence for and continuity with dance music's disco and not-quite-disco past. Boasting a strong sense of cohesion but a decent amount of variety, and plenty of highlights, After Dark amply demonstrates that electronic disco is alive and flourishing in the late 2000s, and that Italians -- at least these wanna-be Italians -- do it very well.


Chromatics: Night Drive review

"Nearly unrecognizable as the work of the one-time punk rock outfit, Night Drive is effectively Chromatics third debut album in a row, following a wholesale transformation in sound and style and yet another lineup change: Adam Miller is again the sole constant member; vocalist Ruth Radelet is a new addition even since the 2006 teaser Nite, replacing Lena Okazaki, while Glass Candy's Johnny Jewel, who produced that single, is now a full-fledged member. Actually, this seems to be Jewel's record more than anyone's - in the silver-screen conceit of the liner notes he's listed as director to Miller's screenwriter, though he also has a writing credit on all the record's originals, only four of which (the vocal songs) Miller co-wrote - indeed, Jewel is emerging as the primary musical force behind much of the Italians Do It Better label. Among that camp of synthesizer-disco revivalists, Chromatics stand out as the most lush and cinematic, drawing on the more languorous, atmospheric aspects of 1980s electronica to fashion a hazy imaginary soundtrack to a stylish, decadent noir film (as the album's visual presentation suggests) or just a lonely late night drive (as per the opening "Telephone Call.") (One is reminded that Giorgio Moroder is almost as celebrated for his film work as his dancefloor material.) Sounding somehow stark and sensuous at the same time, the album evokes widescreen opulence with a sonic palette that extends beyond the bedrock of synths, guitars and drum machines to include touches of organ, strings, flutes and so on, but it's always used sparingly, rarely outstepping the group's meticulously minimal, carefully-controlled arrangements.... Jewel's compositions and production are certainly effective, and the arrangements, whether his or the band's, are undeniably tasteful, but Night Drive could have been a much more offputting, lonelier affair - not that that would necessarily be a bad thing - if it weren't for Radelet, whom liners rightly list as the album's star. She's not exactly overtly emotive, but there's enough warmth in her breathy voice to create a sense of palpable, relatable humanity, just enough to distinguish her from the glassy-eyed alienation of so many dark post-disco vocalists (Glass Candy's Ida No, for one.) That's crucial, especially, on the stirring Kate Bush cover "Running Up That Hill" - chalk it up to the unassailable songwriting, if you like, but it just might be the finest moment on a consistently engrossing record that, if it can't quite claim the title, is as distinctive and striking as a great debut."


Glass Candy: B/E/A/T/B/O/X review

"A freewheeling electronic pop album that's goofy and glamorous in roughly equal measure, B/E/A/T/B/O/X is Glass Candy's first full-length as a duo, following an electro-disco makeover that has effectively cut the rock out of the group's dancepunk/no-wave equation, and their first album for the disco-revivalist label Italians Do It Better. Markedly lighter and more colorful than the label's prevailing aesthetic as presented on the widely-championed After Dark compilation, it plays to some extent like the daylit flipside of Chromatics' dark, atmospheric Night Drive, which was released around the same time and likewise produced by shared member (and Italians driving force) Johnny Jewel. Though it still projects a strong sense of decadence and a distinct air of the unattainable, B/E/A/T/B/O/X is earthier and more inviting than most of the label's output to date - significantly, this is unquestionably music for dancing, as opposed to dance music that's probably a bit too cool to actually dance to. Kicking off with an aerobics instructor's spoken invocation to the DJ and "the heavenly beat," just about every track here is aimed squarely at the dancefloor (save for the brooding, beatless instrumental "Last Nite I Met a Costume," which would have sounded more at home on Night Drive.) The duo's so-retro-it's-modern sound points, no surprises here, straight back to the early '80s, recalling not so much the robotic Italo disco with which the label is often linked (though there are traces of it, particularly on the cosmic strut "Life After Sundown") as plain-old regular disco, the kind that at some point evolved out of funk (check out those full-blooded horn parts, synthesized though they may be, on "Candy Castle" and the punchy "Rolling Down The Hills"), and went on to inspire the new wave art-punk likes of Blondie and Tom Tom Club (both palpable influences here: Debbie Harry, and perhaps "Rapture" in particular, are unmistakable in Ida No's slightly kooky, slightly chilly delivery.) But that's not to suggest that this is straightforward stylistic revivalism - for one thing, although 4/4 thumps carry them through a sizable chunk of the album, the duo also venture freely beyond the well-established neo-disco template, on the weird, stuttering "Etheric Device," scintillating, silky-smooth Kraftwerk cover "Computer Love" (a clear highlight) and the sparse, throbbing, nearly industrial closer "Digital Versicolor." There's nothing here that feels like a mere genre exercise, and for all its readily evident signifiers there's ultimately not much to which it can sustain particularly close comparisons. B/E/A/T/B/O/X may be unabashedly a triumph of style over substance, but Glass Candy have at least managed to concoct a familiar-seeming, versatile, and enjoyable style, or set of styles, that's more or less all their own."


Cut Copy: In Ghost Colors review

In Ghost Colours announces itself, calmly but majestically, with a wash of hazy voices and fluttering keyboards giving way to crystal-clear acoustic strums, languid indie pop vocals, a sturdy dance-rock groove, pulsating electro-disco synths, swirling Caribou-style psychedelics, and an ethereal, vocoded chorus melody. Squeezing all of that into one song -- the effervescent "Feel the Love" -- is an ambitious move: in most hands it would come out sounding like a bewildering mess, or at least a hammy, hyperactive pastiche, but Cut Copy manage to keep it light, breezy, and utterly ebullient. Even more impressive is that they're able to replicate the trick repeatedly across this remarkably assured sophomore album. Colours boasts at least a half-dozen potential summer anthems for dancefloors and headphones alike, seamlessly strung together with subdued interstitial mood pieces that help make it more of a nuanced work than a straightforward collection of relentlessly upbeat dance jams. Undeniably, though, the dance jams are at the throbbing heart of the album, from the unstoppably glittery opening trio (leading up to the anthemic slow-burn disco of single "Lights and Music") to the rough-edged rock drive of "So Haunted" to the pure synth pop bliss of "Far Away." Indeed, this is in many ways a perfect summation of the dynamic, multifaceted, hipster-associated independent dance music of the 2000s, a motley interweaving of pop, rock, and electronic dance elements into a kaleidoscopic array of interconnected styles, some strands of which have been summarily, imprecisely tagged ("disco-punk," "electro-house," "new rave,") but which as a whole remain resolutely, gloriously nebulous and undefined. (Though nevertheless undeniably prevalent, and never more so than in 2008, following triumphant runs by LCD Soundsystem, Justice, and Simian Mobile Disco; the months just preceding In Ghost Colours' release saw eminently enjoyable new albums by Hot Chip, Hercules and Love Affair, Neon Neon, and Does It Offend You, Yeah?, to name a few.)

Cut Copy's music bears all the prominent hallmarks of its era: giddily omnivorous stylistic appropriation, a sensuous, sybaritic (though not, in their case, seedy) demeanor, and the distinct evocation of bygone decades, most palpably the ubiquitous post-punk/post-disco '80s, without succumbing to the pitfalls of overzealous eclecticism, empty hedonism, sugary glut, and blatant derivativeness. Or rather, they do show traces of all of these things, but they play each one off as a strength, always in moderation, and never to the detriment of the music. The eclecticism is there but it's fluid and cohesive rather than distractingly showy; their influence-dogging plays like affectionate homage rather than pointless mimicry; there's an abundance of gleaming, even gaudy surfaces, but they're just too rapturously enticing to entertain qualms about superficiality. It surely helps that they have one of the primary architects of this sprawling scene, the DFA's Tim Goldsworthy, on board as a producer and mixer. More importantly though, beneath its perfectly formed surfaces this is truly an album of songs -- a surprisingly rare thing in this milieu -- with simple but resonant melodies, carried by Dan Whitford's appealingly casual delivery, which help alleviate a slight tendency toward sonic sameness. This is evident not only on the gentler guitar-based numbers, like the loping "Unforgettable Season" and the oddly country-inflected "Strangers in the Wind," which temporarily scale back the dancefloor euphorics, but the out-and-out burners as well, combining with the peppy basslines and nagging chorus hooks to create something all the more transcendent. To be sure, In Ghost Colours is a triumph of craftsmanship rather than vision -- a synthesis and refinement of existing sounds rather than anything dramatically new and original -- but it is an unalloyed triumph nonetheless, and one of the finest albums of its kind.


Rubies: bio, Explode From The Center review

"A light and breezy trifle of a debut album, Explode from the Center belies its swollen, attention-grabbing guest list -- including members of Kings of Convenience, the Concretes, and (most notably) Feist, among a couple dozen others -- with a consistently relaxed, unassuming vibe. Rubies enlist most of those folks to sing and/or play guitar, and there is certainly plenty of pretty singing and guitar playing on this record, though few listeners will be bothered to figure out exactly who's doing what. Core members Simone Rubi and Terri Loewenthal are fine singers themselves, but their mellifluous voices do work especially well blended together and with others, as amply demonstrated in their days with Call & Response, a sort of latter-day Mamas & the Papas for the indie pop set. Explode makes a lot of sense, as they mine the same vein of sophisticated, folky pop with which does a good job of carrying forward that band's late-'60s, late summer, California aesthetic (never mind that most of the album was recorded in Scandinavia), adding occasional electronic flourishes, although the gentler, folkier numbers tend to come off better than the would-be dance jams. "I Feel Electric," the Feist-featuring lead single, is actually one of the least successful moments on the album, its insistently bouncy sore-thumb synth/disco sounding stilted and overdetermined by comparison to the surrounding material, although mediocre lyrics and a negligible chorus hook don't help matters, either. The less blatantly dance-oriented "Stand in a Line," with a twitchy low synth part and scratchy guitar work courtesy of ex-bandmate Dan "Sorceror" Judd, fares a bit better, as does the chunky pop of "Diamonds on Fire," but the most satisfying grooves here are those mellow enough to feel like organic frameworks over which the songs are lazily, casually draped.... Rubies' friendship with Leslie Feist makes a lot of sense, as they mine the same vein of sophisticated, folky pop with which Feist struck gold on -- in particular -- The Reminder (whose cover, incidentally, was designed by Rubi) -- and Feist fans will find a lot to enjoy here, although Rubies' actual songs make less of an impression than their overall sound. There's nothing especially wrong with that -- it just means this is an album better suited for soundtracking laid-back summer afternoons than for focused, introspective close listening."


Bloodshy and Avant: bio

(well, you can read it if you like, though it's mostly just a list of tracks and collaborators, and the text is messed up at the end. i mostly just wanted to post this picture of b+a with britney spears...[source: wikipedia])