Mayer Hawthorne: Impressions EP and How Do You Do? reviews


Detroit retro-soul MVP Mayer Hawthorne has been a busy man lately, popping up on tracks by Chi-town rappers Cool Kids, Parisian techno bro SebastiAn and funk legend Dennis Coffey. He's also found time to cut a digital covers EP,

Impressions

(free at stonesthrow.com) offering his impeccable takes on some predictably awesome soul obscurities plus tunes from such less likely sources as Chromeo, John Brion and Electric Light Orchestra. Still, with album number two on the horizon, Hawthorne better not start resting yet. As he sings here in his best swoon-worthy Isley Brothers croon: he's got work to do.
When your out-of-nowhere debut was a stone-cold modern classic that managed to be both an uncannily convincing recreation of prime 1960s soul and Motown and also perhaps the most distinctive, freshest-sounding soul platter to emerge in ages, what do you do for an encore? No need to reintroduce himself: Mayer Hawthorne's wholly worthy sophomore set keeps things grooving with plenty more of the same – typically tasty, apparently effortless fun (if occasionally under-written) fare like "Hooked," strutting single "The Walk," the irresistibly buoyant "You Called Me" and the Tempts-ish "Stick Around" – while also dipping a big toe into the sultry, string-laden '70s (and plying his best Barry White come-ons) with the plush Philly slow-burn "Get To Know You" and the gaudy, bawdy Snoop duet "Can't Stop." If covering Jon Brion and ELO on this summer's
Impressions
EP tipped his pure-pop-loving hand, similarly blue-eyed influences come to the fore here with trace levels of the Doobies and Steely Dan (particularly on the Rhodes-aided "Finally Falling" and "A Long Time," a dynamite, heartfelt tribute to his Detroit roots) and an emphasis on tight, bright, crisply poppy arrangements throughout.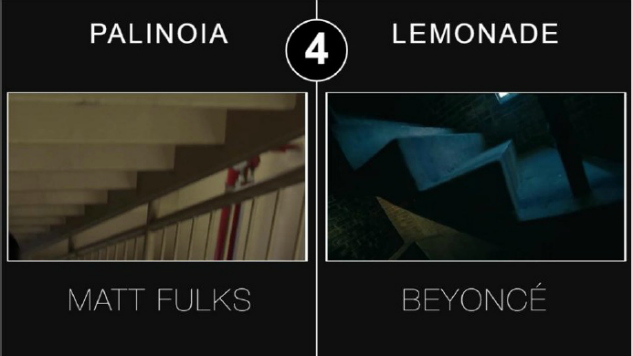 Beyoncé:
4
review
A new Beyoncé record is, by definition, an event, but after her last album's sprawling, unwieldy embarrassment of riches (and vaguely contrived stylistic segregation),
4
feels almost casual: a plain dozen unfussy tunes with (mostly) refreshingly minimal, understated productions, custom-devised for Ms. Knowles to sing the bejeezus out of them, which she graciously, gracefully does. That's a tremendous treat in itself – as always, though she's rarely been quite this artlessly affecting; authoritative yet unforced (breezily pyrotechnic, even.) And, shrugging off negligible missteps like "Party"'s pointless Kanye West intrusion, there are comparable musical pleasures all across the tracklist, from "I Miss You"'s warmly brooding slow-mo electro and "Love On Top"'s grin-inducing throwback R&B gush to the euphorically scattershot, Boyz II Men-sampling "Countdown." Even the album's unorthodox bluesiness-in-front, party-in-back sequencing (flip the track order – nipping the overblown "I Was Here" – and you've got a much more conventional, arguably more effective LP, not unlike B'Day with an inverted ballads:bangers ratio) helps it feel an appealingly low-key, off-the-cuff lark. As though B could really just sneak up on us like that.
The Throne:
Watch The Throne
review [expanded edition]
Nobody's coming to
Watch the Throne
cold. Whatever opinions you may have about Jay-Z and Kanye West, this album will likely affirm if not reinforce them – unless, say, you somehow believe either to be humbly self-effacing or blandly conventional. Throne is many things: an idiosyncratic showcase for two uniquely complex personas, a gleeful celebration of ostentatious excess (Hov's words: "Black excellence, opulence, decadence..." – also: "new watch alert!"), an overstuffed hodge-podge of bold and occasionally dodgy experiments, and, not least, a literally gilded monument consecrated to Ego. Some things it's not: predictable, pedestrian, a mindless victory lap or a rote cash-grab – nor, for that matter, is it a consummately crafted album for the ages. But it's certainly never boring. Notwithstanding their long and storied history together (which itself provides some fertile lyrical grist), Jay and 'Ye seem like a potential mismatch for a full-length collab; they have equally recognizable but markedly dissimilar flows and, increasingly, musical wheelhouses, and each is utterly confirmed in his own particular strain of solipsism. But – along with their obvious, infectious camaraderie – they turn out to be pretty good influences on one another: Jay sounds generally reinvigorated: good-humored, full of nimble, intricate wit, and uncharacteristically emotionally revealing, and if Kanye's rhymes often remain as clumsy and crass as his personal life choices ("sophisticated ignorance/write my curses in cursive" sums it up well – and in Pig Latin, too, we learn), he drops far fewer boners than usual. The discrepancy is marked on "That's My Bitch" – a clumsy, ersatz "old school joint" whose Amen breaks and P.E. scratches jut against ponderous synths and blue-eyed throwaway hooks (crooned, randomly, by fake Frenchies La Roux et Bon Iver) – wherein Ye patronizingly mocks his latest hook-up for mispronouncing "Basquiat" while Jay ponders white-washed beauty standards (and, amusingly, proposes that Picasso could have painted Beyoncé.) (Oh yes, both parties go to considerable lengths here to demonstrate their familiarity with art as well as haute couture.) On the touching "New Day" (whose dappled synth burbles and woozy, auto-tuned Nina sample are considerably more artful and, arguably, "respectful" than the album's blunt Otis and James flips), both rappers rectify their life's mistakes vicariously through their purported sons; Kanye envisions himself as neurotically overprotective ("I might even make him be Republican/so everybody know he love white people," he ironically/moronically quips), while a particularly big-hearted Jay, apart from indulging his weirdly persistent Judaism fetish, just sounds like the coolest dad ever. Credit both for executing an effective late-album swerve into social consciousness, via the incisive socio-political-cum-musical diptych "Murder to Excellence" and raptly exultant coming-up anthem "Made In America," which shouts out the patriarchs and matriarchs of the civil rights movement, along with the holy family – another notch for rookie of the year Frank Ocean (as is the stark, anti-clerical/pro-polyamory blues "No Church in the Wild." As full of complications and contradictions as
My Beautiful Dark Twisted Fantasy
– its nearest and easiest reference point –
Throne
is at least as musically adventurous and wide-ranging, if not always as successful – the convincingly potent, tough-as-nails dubstep curveball "Who Gon Stop Me," for instance (a pretty wholesale Flux Pavilion recasting), is pretty much the polar opposite of "Liftoff"'s stale day-glo puff paint triumphalism. Between the misfires and the winners, through all the smoke and spectacle, our heroes come off perhaps only intermittently regal, but always resoundingly, royally human.
Mariachi El Bronx:
[II]
review
If there was any doubt that the gringo Angeleno hardcore punks in the Bronx were dead serious about their Mexican folk alter ego -- and for anyone who's spent time with Mariachi El Bronx's 2009 self-titled debut (or caught the twin bands' rollicking, identity-shifting live shows) there certainly was not -- the outfit's second album offers ironclad reassurance that this is no novelty act. Not messing with a good thing, the group takes essentially the same approach this time around -- even the album title's the same -- but the results exhibit a subtle yet significant improvement in almost every respect: both the production and the performances are notably crisper and punchier; the arrangements are richer and more complex, full of swirling, soaring strings; the stylistic range is successfully broadened (to encompass cumbia, norteño, and bolero), and the passion and fire on display are simply undeniable. And the songs, in particular, are uniformly strong and memorable, with highlights including the raucous, tempo-shifting instrumental "Mariachi El Bronx," the fun, flirtatious "Norteño Lights," and especially the tremendous, white-hot single "48 Roses," a philanderer's furiously impassioned plea for dubiously deserved forgiveness ("With four different lovers and 48 roses/I need a confessional that never closes"). The effect of Matt Caughthran's heartfelt but distinctly non-Hispanophone vocals (toned down though still discernibly punk-informed) atop resolutely traditionally styled instrumentation (give or take the not strictly conventional presence of a drum set) recalls the slightly uncanny effectiveness of David Byrne singing with Brazilian musicians on Rei Momo or Paul Simon with South Africans on Graceland (the Pogues' use of traditional Irish music is another, perhaps more apposite comparison) -- a major difference, however, is that Caughthran's lyrical and emotional approach cleaves far closer to the conventions of the genre in question, focusing mainly on affairs of the heart (though he doesn't shy away from more somber philosophical musings on death, poverty, and religion). Purists may, of course, have their qualms, but it would be hard to deny the combination of reverence, proficiency, and sheer exuberance in evidence here -- indeed, it's difficult to imagine any serious limits of this band's appeal. ¡Viva El Bronx!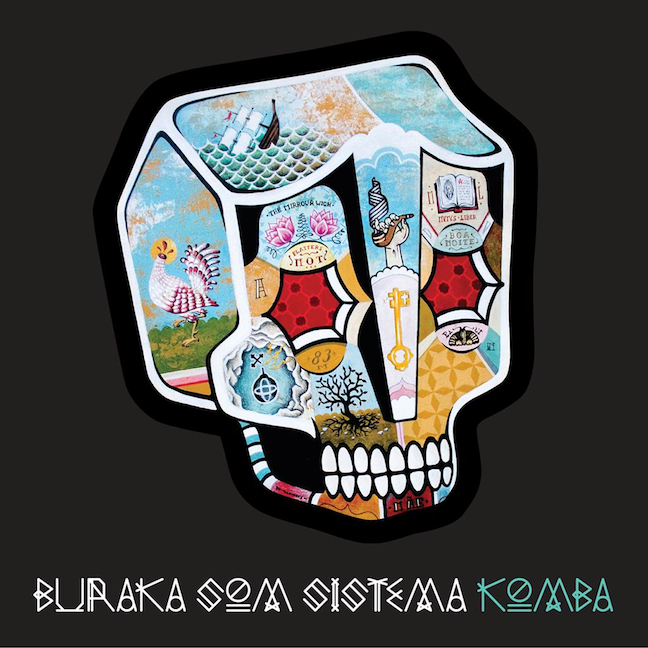 Buraka Som Sistema:
Komba
review
Komba, as a voice-over early in Buraka Som Sistema's so-titled sophomore album helpfully explains, is an Angolan religious tradition that's roughly the equivalent of an Irish wake: a massive party held a week after a death, celebrating the life of the deceased. The accordingly spooky and festive title track, which is primarily sung in English (and, in part, as though from beyond the grave), together with several references to Bantu tribal rituals in the opening "Eskeleto" (Skeleton), sets up the notion that the album will be something of a cultural guided tour. But save, perhaps, for the ominous, drum-driven instrumental "Macumba" (whose title refers to Afro-Brazilian folk religion), there's no other indication here (at least to Anglophones) that Portugal's Kuduro champions have any such edificatory intentions in mind: for all practical purposes, Komba is "conceptual" only in that -- as could only be expected -- it's just one hell of a party. Not tampering too much with the formula that made 2008's Black Diamond such an undeniable, explosive experience, Komba essentially delivers more of the same: fierce, hard-hitting, yet decidedly playful, fully polyglot electronic gutter-funk. The average intensity of these new tracks may have come down a notch (though they're still plenty fiery), and there's an uptick in what might seem like crossover pop concessions (not that there's anything wrong with that) -- incorporating elements from R&B ("Voodoo Love") and blandly populist dance-pop (first single "[We Stay] Up All Night" is something like the African tech-funk version of Kesha), as well as the self-explanatory reggaeton hybrid "Burakaton" -- basically, it's just the group indulging its omnivorous and well-established pan-global pop wanderlust. (See also the nutty "LOL & POP," which combines childlike taunts, Clipse-referencing raps, and shout-outs to past BSS tracks with a frenetic, vaguely surf-punky riff.) There aren't quite as many standout tracks this time around, but there are no real low points to speak of (although the dopey ghetto-tech vocal sampling of the incessantly blip-happy "Hypnotized" comes close), and there's plenty to enjoy, especially from a beat programming standpoint -- or, even more especially, from the center of a crowded, sweat-soaked dancefloor. Not at all a bad way to go.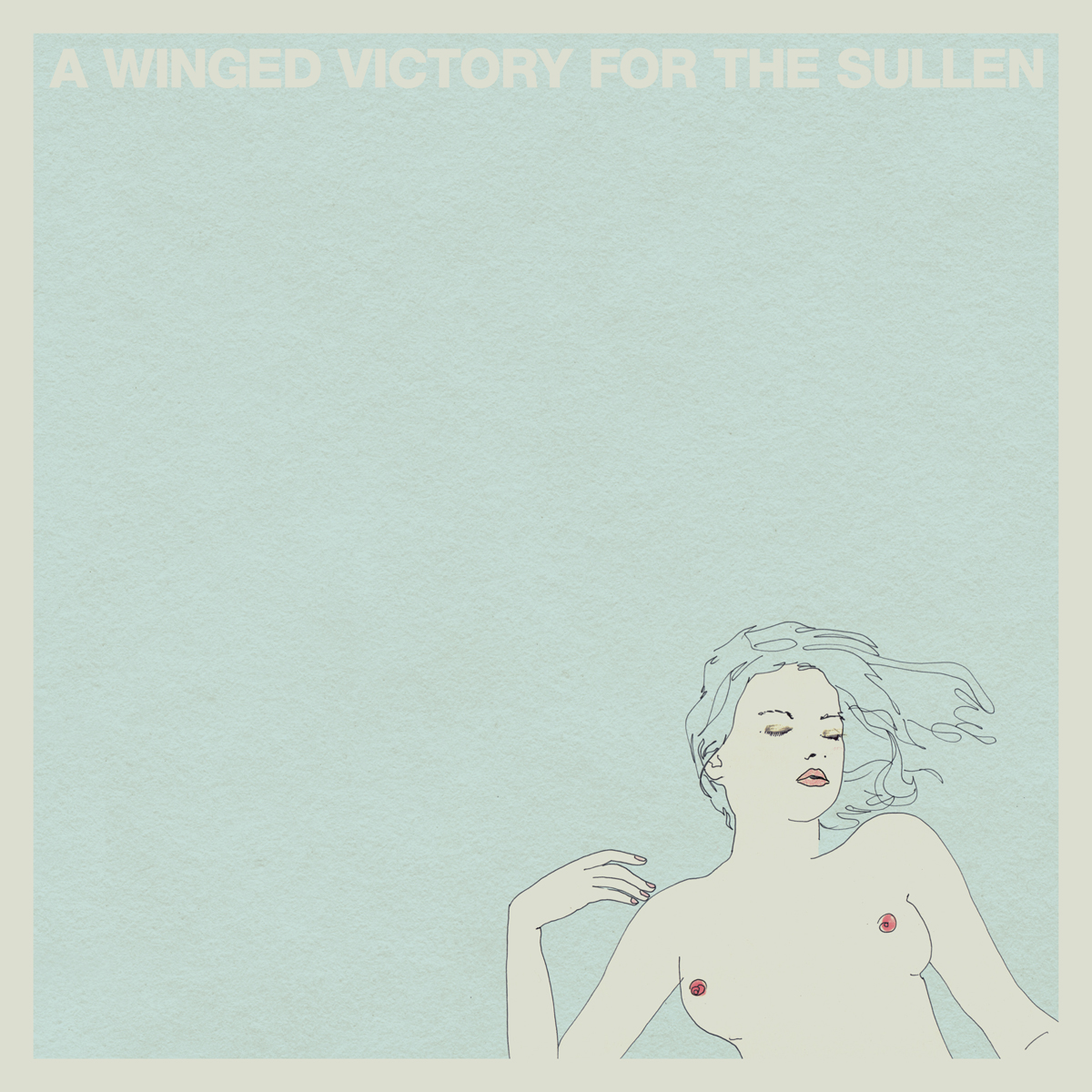 A Winged Victory for the Sullen:
A Winged Victory For The Sullen
review
By comparison with your typical Stars of the Lid output – like 2007's epochal
And Their Refinement of the Decline
, whose languorously protracted tones and drones might still not have finished reverberating four years after its release – this new collaboration pairing Adam Wiltzie (half of that Texan duo) with "post-classical" composer/pianist Dustin O'Halloran offers something a little more lively. By any other measure, though,
A Winged Victory For The Sullen
could hardly be more utterly, ineffably tranquil. Building from
Refinement
's graceful, majestic swells of sound, and expanding on that album's orchestral inclinations with an even broader symphonic palette – encompassing strings, organ, harp, and O'Halloran's sturdy, meditative piano – articulating a carefully selected compass of harmonic and melodic information, these seven pieces feel at once structurally minimal – almost formless, albeit deliberately controlled – and sonically maximal. Where much ambient drone, and Stars' in particular, seems to take form from residue and a near-spectral suggestion of absence, Wiltzie and O'Halloran's richly sonorous clusters rise toward an emotive power that can only stem from engaged, emphatic presence.
Oneohtrix Point Never:
Replica
review
Replica
, retro-synth drone maven Daniel Lopatin's return as Oneohtrix Point Never following his critically adored, profile-rocketing 2010 album
Returnal
(and his equally estimable work with Ford & Lopatin), offers repeat customers both familiarity and surprise in roughly equal measure. In the former column, Lopatin still grounds his creations in conspicuously beautiful, buzzing, humming, and twinkling Kosmiche synthscapes; once again, everything feels draped in a syrupy, soft-focus analog glaze. But only one track, the aptly titled "Submersible," sustains itself on warmly drifting, rhythmically unfettered synthetic sound washes alone. Elsewhere, gentle waves of gauziness give way, more or less gradually, to more dynamic elements: on "Remember," an intertwined pair of looped vocal snippets (one speaking the track's title, the other a muffled, mutilated moan) slowly emerges from the amniotic haze; dappled pace-setter "Andro"'s undercurrent of murmuring, garbled sound scraps flips in the final 30 seconds into a stuttered, ritualistic outburst of hand percussion and jungle screeches. By and large, though, rhythm is not merely appended to but fully foregrounded in these compositions, in a way that's essentially new for Oneohtrix -- rarely in the conventional guise of drum tracks and "beats" (though there is a stark, rudimentary one anchoring the first two minutes of "Up," which might be approximately danceable if it weren't in 7/8), but often in the form of sampled loops, creating a definite rhythmic structure without (in most cases) the use of "percussion" per se, a much calmer variation of the micro-sampling methods of Akufen and Matthew Herbert. "Power of Persuasion" introduces this approach with a shifting series of classical-sounding (acoustic) piano figures stuck on short-circuit repeat, to placid, gently numbing effect, while the rather less somnolent "Sleep Dealer" lassoes in a wider array of thuds, groans, and whirrs along with a perky keyboard fillip, indecipherable spoken bits, and a satisfied-sounding exhalation to form a pleasantly cheery little jaunt, and the gently erratic "Nassau" adds some rustling, shuffling footsteps that sound a bit like soft-shoe tap dancing. Even the lovely, lulling title track, which combines static buzzes and fluid, meandering melodic tones with no regular rhythmic matrix to speak of, creates a sense of gentle groove and motion in its soft, patient new age piano chords. Apart from his usual battery of analog keyboards (and a considerable amount of actual acoustic piano), Lopatin apparently culled much of the sound for this album from a DVD compilation of TV commercials dating from 1985 to 1993. Though it makes for an intriguing compositional back-story -- and it clearly provided him a rich sound palette from which to draw -- it's rare that that source material is specifically evident while listening; at best it functions on a more energetic, subconscious level, making the typically nebulous sonic nostalgia of the chillwave/hypnagogic pop movement -- with which these productions bear some strong commonalities -- more literally (if still somewhat imperceptibly) manifest.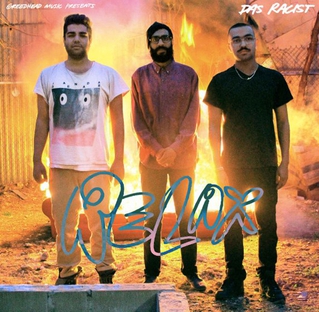 Das Racist:
Relax
review
Having turned heads internet-wide (and beyond) in 2009 with "Combination Pizza Hut and Taco Bell," their unlikely but undeniable, out of nowhere breakthrough hit/joke/meme, and having established their no-joke chops -- validating that seeming one-off as no fluke even while revealing its unmitigated goofiness as something of a red herring -- with a pair of improbably solid, seriously skilled (but still impishly playful) 2010 free-download mixtapes, the smarty-pants Brooklyn rap squad Das Racist arrive at their first legit, purchasable album with goodwill (and talent, and charisma) to burn, and little to prove except their ability to keep a very good, emphatically original thing going. Relax -- the title's a logical extension of the mixtapes' enjoinders to "Sit Down and Shut Up," though an odd handle for such a manically wired, hyper-functioning affair -- makes that much readily clear, delivering in spades the blend of dense, reference-strewn, culture-jamming jokey (not jokey) rhymes, absurdist non-sequiturs ("I'm DJ Khaled/I'm a daikon radish"), cannily irreverent racial critique, eggheaded egg-tossing ("Rapgenius.com is white devil sophistry"), fake patois, and gleeful gibberish that made their name. If there's a discernible new development here, it may be an increased sense of toughness, both musically and lyrically. At least intermittently, Relax seems geared toward beefing up Das Racist's hip-hop bona fides; i.e., basically, their sincerity; no mean feat for such unrepentant trickster-hipster satirists. So we get rampant (largely unconvincing) drug hustling references; the basically self-explanatory (evidently unironic) "club banger" "Booty in the Air," and, on the pace-setting title track, a rare moment of personal introspection -- Heems rapping about his immigrant parents in 1980s Queens ("from holding me to bagging groceries at the Pathmark") -- juxtaposed with the uncharacteristically straight-faced boast "these days I mostly focus on my bank account/I ain't backing out til I own a bank to brag about." Indie rap-wise, it doesn't get much tougher or more soberly serious than El-P, who both produces and guests on "Shut Up, Man" with characteristic chilly digi-funk steeliness, Das Racist following suit impeccably (but with poop jokes.) On the other hand, there's the bubbly synth pop of "Girl," a clear, tongue in cheek, pop-rap piss-take; the lite electro-bhangra fusion "Punjabi Song," and the frothy, fun-loving "The Trick" (produced by Vampire Weekend's Rostam Batmanglij, with a heavy nod to Tom Tom Club). Their range is impressive, for sure, but nobody's gonna mistake these guys for remotely conventional rappers -- nor, presumably, would they want that. One quibble: while "Combination Pizza Hut" is referenced twice (once in "Rainbow in the Dark," the well-selected lone mixtape holdover; once -- in ludicrously crude fashion -- in Danny Brown's delightfully loopy "Power" guest verse), there's nothing here approaching the catchiness of that song's indelible hook. Granted, they're not fishing for another viral earworm here, but you'd think they could come up with something better -- for the lead single, no less -- than "Michael Jackson"'s feeble placeholder of a refrain.
DRC Music:
Kinshasa One Two
review
At the dawn of the 2000s, Damon Albarn traveled to Mali and made some recordings with a handful of local musicians, later shaped into Mali Music, a curious, casual, satisfyingly undefined collaborative foray that marked the starting point of his continued public fascination with the music of Africa. Ten years later -- following a decade that found the incessantly networking Albarn joining forces with many more African musicians through his myriad musical guises (Gorillaz, Blur, the Good, the Bad & the Queen), not to mention releasing the work of several others via his Honest Jon's label -- he returned to the continent for a similar project with a considerably grander scope, descending on metropolis of Kinshasa, in the Democratic Republic of the Congo, with a veritable army of British and American producers (ten of them, including Actress, Dan the Automator, Jneiro Jarel, and XL Recordings head Richard Russell) to interface with a much larger number of Congolese players and vocalists. What's more, the whole recording process lasted a mere five days. The resulting album (which, like Mali Music, was released as a benefit for Oxfam charities) is as sprawling, messy, and multifarious as you would imagine, a bustling, urban contrast to the sleepy, subdued village feel that prevailed on Mali Music. The difference can be ascribed to the energy of both the Kinshasan musicians and the cutting-edge electronic and hip-hop-oriented Western producers involved, as well as the frenzied, on-the-fly, street-level spirit of the recording experience itself. Strands of funk, house, hip-hop, dub, and techno intertwine freely and loosely with dense, polyrhythmic percussion grooves played on all manner of hand drums, bells, whistles, and scavenged scrap metal instruments (often performed by Bokatola System, who turn up four times) as well as sparser textures featuring thrumming likembes and twangy guitars, and a dizzying array of vocalists who sing, speak, rap, toast, and chant atop it all. (Arguably the most striking track here, a minute-long singsong entitled "Love" and performed by a lightning-tongued rapper/singer of the same name, is entirely a cappella.) Although little if anything here fits neatly into any specific Western genre (the Gorillaz-ish, gently poppy trip-hop of opener "Hallo" -- the only track to feature Albarn's vocals, and coincidentally the dullest thing here -- comes closest), this is definitely much more of a thorough cultural fusion than any sort of reverent "field recording" project -- both Western and African elements are readily audible on every cut, with a somewhat varying but generally quite equal balance of prominence. But that doesn't necessarily mean it's any less respectful of the local musicians and their contributions, nor any less of a resonant depiction of a globalized but nevertheless specific cultural environment. In the increasingly prevalent spirit of similar trans-cultural musical interminglings in recent years, what we get never feels carefully curated, explicated, or tamed but rather refreshingly, bewilderingly alive -- an explosive flurry of rhythms, sounds, and voices.
Fool's Gold:
Leave No Trace
review
By the time of their second album, L.A.'s Fool's Gold solidified their lineup from an expansive and somewhat amorphous eight-to-twelve-person collective into a condensed five-member band. Correspondingly, perhaps, Leave No Trace largely reins in the freely flowing pan-global jams of the group's debut in favor of a more tightly structured set of songs, a change that turns out to somewhat diminish their music's singularity, if not its fundamental charm. It's not that the defining African and Middle Eastern strains which predominated throughout Fool's Gold -- the layered polyrhythms and, in particular, the gleaming, liquid Afro-pop guitar lines -- are wholly absent here; indeed, they're all right there in opening cut "The Dive," which also gestures toward Brazilian samba in its percussion (and whose central guitar riff is a kissing cousin to first album stand-out "Surprise Hotel.") But the international influences are noticeably toned down and made to share space with more familiar, pedestrian Western rock and pop elements, bringing the group's sound closer to the more generically "tropical-inflected" indie rock of artists like Foreign Born (two of whose members overlap with Fool's Gold) and Vampire Weekend. The band also experiment with adding some squelchy synthesizers and electronic textures, most prominently on "Street Clothes," which veers unexpectedly into full-on '80s art-funk territory, complete with sproingy drum triggers, clavinet, and a chaotically skronking sax. Further diluting the group's multi-cultural spirit, singer Luke Top largely forgoes his native Hebrew this time out to sing in English (save on the bilingual "Tel Aviv.") All of this is fine as far as it goes: the global stew may be watered down, but it hasn't entirely lost its flavor. Leave No Trace still sounds great; the playing is marvelously light and breezy, and these tunes are still enjoyably summery, simmering, and infectiously danceable (if not, on the whole, terribly memorable.) Still, it's hard not to wish Fool's Gold had figured out how to develop and expand their approach without compromising so much of what made their debut so delightfully unique.
Kitty Daisy & Lewis:
Smoking In Heaven
review
There's a lot to love about Kitty, Daisy & Lewis Durham, a trio of British youngsters (aged 18, 22, and 20, respectively, at the time of this recording) whose enthusiasm for the American roots music of the 1950s is undeniably sincere, impressively zealous, and absolutely infectious. It's easy to imagine a project like theirs smacking unbearably of gimmicky novelty, especially given the ambitious measures the Durham siblings undertake in the interest of authenticity -- including amassing enough vintage recording gear to build a complete home setup modeled after the Sun Records studio -- but these kids make it all feel breezily natural, and for them it really is: after all, they were raised on this stuff by their hipster music industry parents (mastering engineer Graeme Durham and Raincoats drummer Ingrid Weiss, who also sit in with the band on occasion.) While
Smoking in Heaven
, the group's second proper full-length, doesn't tamper with the charmingly loose, deliberately homespun energy of their 2009 debut, it does find them branching out in several ways: exploring bluebeat ska ("Tomorrow," "So Sorry") and coarse, strutting funk ("Don't Make a Fool out of Me") in addition to plenty of their usual jump-blues, R&B, and swingin' rockabilly (no Hawaiian jaunts this time, though); trying out some more ambitious (if not always wholly convincing) musicianship -- check the rough but still rollicking boogie-woogie piano solo that kicks off the instrumental "Paan Man Boogie" -- and, notably, penning all their own material for the first time. The writing is nothing earth-shattering; in fact, it's rudimentary and formulaic almost without exception, although they still come up with a couple of winners ("I'm Coming Home"), and lots of tunes that would easily pass for understandably forgotten oldies (not among them is "Messing with My Life," whose trebly, cod-funk guitar and atypically contemporary-sounding vocal stylings make it sound incongruously like an especially amateurish cover of a faceless, 2010s Top 40 R&B hit.) But as with their playing and singing (Lewis sometimes calls to mind a young, inelegant Eric Burdon -- an apt reminder of how much these guys have in common with Ameriphile '60s beat groups like the Animals and the Yardbirds), the sisters have a tendency to sound a bit congested, but their charm and passion take them a long way. That charm can run pretty thin, though, when it comes to extended "jams" like the seven-and-a-half-minute "What Quid," and harmonica-riddled, nine-minute title-track, neither of which offer nearly enough variation or interest to justify their length.
Goldmund:
All Will Prosper
review
None of the music Keith Kenniff makes under any of his guises -- as Helios, or as half of the duo Mint Julep -- is really the least bit difficult or demanding, but the solo piano-oriented Goldmund is probably the most anodyne of all of his projects, and this fifth release under that name may well be his most pleasantly unchallenging yet -- unless you're the sort of person who's easily riled up by hearing the melody of "Dixie." All Will Prosper is a collection of 14 Civil War-era folk songs (plus one more recently composed dead ringer, "Ashoken Farewell") rendered in sparse, minimalist arrangements featuring only delicate, close-miked acoustic guitar and reverberant upper-register piano. There's the occasional hint of simple, organic ambient techniques (such as one of these instruments being used in an atmospheric, drone-like or gently percussive fashion) but the focus is squarely, unabashedly on presenting these almost innately familiar melodies as simply and as beautifully as possible. And if anything can be said to be truly remarkable about this recording, it is precisely that sense of focus, with every detail of the sound carefully deployed and calibrated to maintain a sense of pure, unruffled calm. Kenniff is a past master of prettiness, and he certainly hasn't lost his touch here. At the same time, there's a thin line between tranquil aesthetic purity and emotionally empty sterility, and while this music makes a fine blank canvas for whatever you want to project onto it, it's ultimately pretty faceless stuff. For all the emotional potential of this source material, Kenniff does little to make it resonate more than literally; he certainly doesn't present the era in any sort of new, freshly relevant way (like, for instance Titus Andronicus on their similarly artworked The Monitor), but neither is there much palpable sense of nostalgia, except perhaps on the mournfully slow, somber closing rendition of "When Johnny Comes Marching Home." Something about these simple old-fashioned melodies and the gently chiming quality of the sound makes this feel vaguely like a generic collection of instrumental Christmas carols (or perhaps it's that "All Quiet on the Potomac" bears a passing melodic similarity to "Greensleeves"). More to the point, it sounds like a souvenir CD you might pick up at the gift shop of a historic battlefield site. Actually, Kenniff should look into that -- it might be a great marketing opportunity.
Philadelphia City Paper reviews:
Active Child:
You Are All I See
review
The word "ethereal" gets thrown around a lot in reference to voices that are merely high, but Active Child's Pat Grossi, on his spiritually ecstatic debut LP

You Are All I See

(Vagrant), unleashes a falsetto that's veritably angelic (an attribute enhanced by the album's copious, gossamer harp cascades) and also lavishly, deliriously dense enough to spread like velvety putty across these synthetic cathedrals of gleaming, electrified new age crunk.
Escort:
Escort
review
There's been no shortage of disco revivalists recently, but few latter-day practitioners have managed to recognize and replicate the joyous, sexy, soulful spirit – and the magnificently playful excesses – of the music's 1970s origins quite like Escort. The seventeen-piece New York orchestra took their sweet time perfecting their eponymous debut LP – they started dropping singles (all included here, most in tight new re-recordings) way back in 2006 – but there's no denying that the fifty solid-gold groove-strutting, synth-twinkling, string-swirling minutes making up

Escort

(Escort) were worth every second of the wait.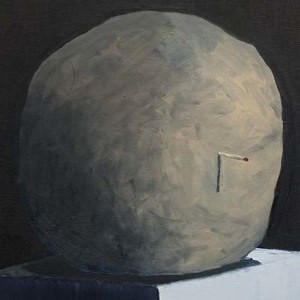 The Caretaker:
An Empty Bliss Beyond This World
review
Fascinating, elegantly evocative and rather delightfully eerie,

An Empty Bliss Beyond This World

by The Caretaker (British sound-collage artist James Kirby) is a sort of allegorical aural portrait, an attempt to emulate the experience of Alzheimer's disease via deconstructions of crackly old prewar shellacs: syrupy ballroom jazz, languid piano waltzes, weepy orchestral serenades, cloaked in reverb and static and manipulated into gently drifting loops and fragments to create a pleasantly bewildering, hypnotic jumble of disorientation and free-floating nostalgia.
Mark McGuire:
Get Lost
review
Even more than the spacey, synthy drones of his well-loved band, Emeralds, the music that Ohioan guitarist/tone-sculptor Mark McGuire makes on his lonesome is ideally suited to soundtrack any variety of bliss, be it heady or wistful, wide-eyed or pleasantly drowsy.
Get Lost
(Editions Mego), his latest in a continuous stream of releases, offers five fairly brief, breezily fluid, warmly melodic and layered acoustic/electric pop-ambient excursions, plus the perfectly-titled "Firefly Constellations" – twenty minutes of flittering, saturated sound-shards and patient, placid strums.
Glenn Jones:
The Wanting
review
Boston's Glenn Jones – a collaborator and pal of our own dearly departed Jack Rose, who plays in a similarly dense, deft, folk-derived finger-picking style (so-called "American primitive," though it's really anything but) – is an immensely skilled guitarist, something that's evident from any given few seconds of

The Wanting

, his Thrill Jockey debut. But it's his spirit, grace, and subtle, sure compositional style, not mere technical wizardry, that makes these eleven songs without words such an uncommonly warm, welcoming and immersive listening experience.
Drake:
Take Care
review
Eighty minutes of anybody ego tripping out (maybe emo tripping would be a more apt description) is a lot to take, but Drake, ever the mopey charmer, makes it a typically nuanced and pleasurable ride on

Take Care

(Universal Republic), not that it'll convince the haters. Subtler and smoother but also more monochromatic than his debut, it's an icier listen but a bolder aesthetic statement; all free-floating nocturnal, money-drunk, earnestly world-weary malaise.
Van Dyke Parks:
Arrangements, Vol. 1
review
Van Dyke Parks'

Arrangements, Vol. 1

(Bananastan), a hand-picked collection of little-heard '60s and '70s chestnuts, is a fittingly spectacular showcase for a legend who's worked with everyone from Brian Wilson to U2 to Joanna Newsom to, apparently, Skrillex – but it's also just a totally cracking mixtape: consistently entertaining, delightfully eclectic – a truly pan-American patchwork of styles – and full of surprises (psychedelic country-gospel from Arlo Guthrie, off-color calypso from Bonnie Raitt, stone-cold funk from Little Feat), all with Parks' playful, colorful, jauntily baroque orchestrations.
Gem Club:
Breakers
review
Emanating wintry calm and sober, classically restrained elegance; using a palette that feels even more spare and restricted than it actually is – glacially patient, cavernously reverberant piano; spartan, poignant cello; judiciously sparing percussion, and achingly delicate, boyishly whispered vocals, often harmonized and layered to exquisite effect – Somerville, MA's Gem Club have birthed a starkly simple but deeply affecting debut LP in

Breakers

(Hardly Art), one which bears an almost uncanny likeness to Sufjan Stevens at his softest and most heartbreakingly sincere.
Little Dragon:
Ritual Union
review
"Ritual Union," the sparky title tune of Little Dragon's third full-length (Peacefrog), is a meditation on matrimony, but the phrase could also describe the seamless, deep-vibing pocket the Swedish foursome inhabit so magnetically whenever they take the stage. Recordings still aren't a patch on that uncanny live allure, but this may be their most satisfying yet, progressing beyond effortlessly moody grooves toward brighter, snappier territory without losing their jazzy machine-soul elasticity or Yukimi Nagano's endlessly enrapturing, enigmatic coo.
El Rego:
El Rego
review
When not occupied with latter-day simulacra (Sharon Jones, The Budos Band), the soul and Afrobeat specialists at Daptone records work an occasional sideline in unearthed vintage goodies such as
El Rego
, an impressively wide-ranging collection of 60s and 70s sides from the eponymous Beninese funkateer. Besides the usual rampant James Brown-isms and limber, percolating grooves, we get smoky sub-Saharan blues, vague Arabic inflections, plenty of melody, and some intriguingly soulful accordion work.
Yelawolf:
Radioactive
review
It's no surprise that celeb cameos, splashy Euro-crunk productions, and blandly inspirational rent-a-diva choruses don't suit scrappy skate-rat rapper Yelawolf's Southern trailer-park gutter talk and neck-snapping double-time flow nearly as well as the sparse, steely, deliciously sinister beats peppering his galvanizing mixtape work. The intermittent moments of the sprawling, overstuffed

Radioactive

(Shady/Interscope) which allow the Alabaman's "ugly boy swag" to shine through tantalizingly confirm that he remains one of hip-hop's most charismatic and technically compelling new voices; if only this was the proper showcase that voice deserves.